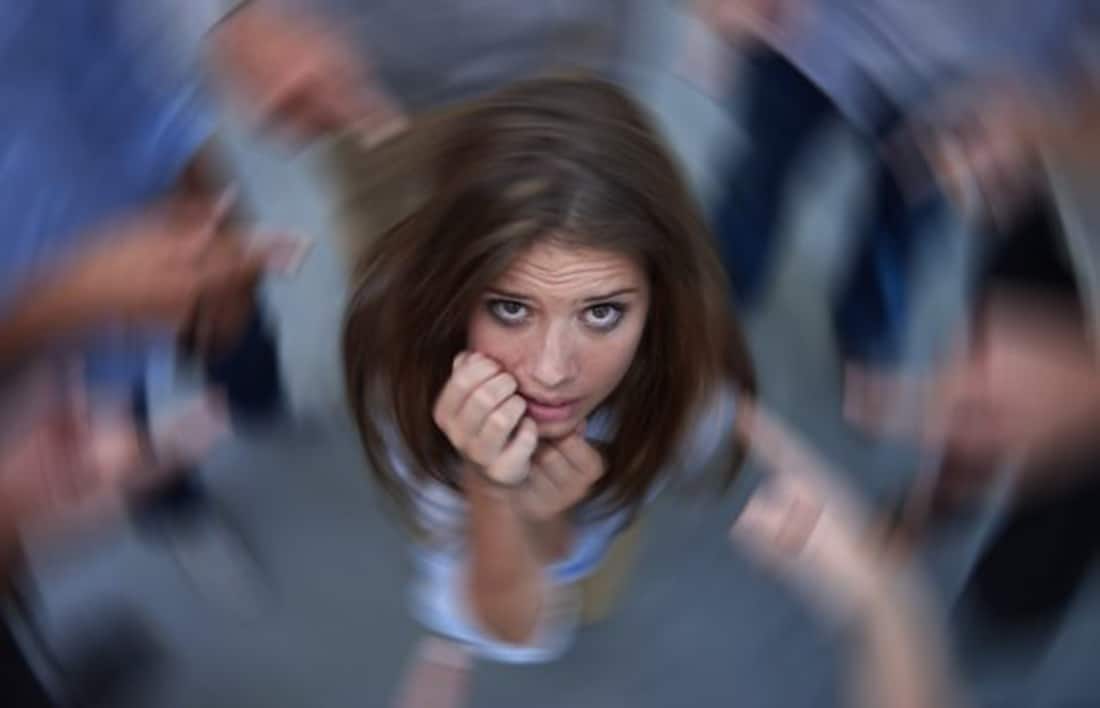 Blaming Unvaccinated Americans. Here We Go Again.
by Marco Cáceres | Nov 6, 2022
Fueled by the phrase, "pandemic of the unvaccinated," last year many corporate media outlets began running a series of articles attacking people who chose to exercise their medical informed consent rights and not get vaccinated for COVID-19. The hit pieces laid the blame for the continuing COVID pandemic squarely on the shoulders of unvaccinated Americans. Why? Because in a crisis situation in which there appears to be no end in sight or any quick solution or easy exit strategy, identifying a scapegoat may often be the next best thing.1 2 3 4 5 6 7 8 9
The underlying assumption behind the scapegoating of unvaccinated people by the media was that COVID shots available to the public were capable of preventing infection with and transmission of the SARS-CoV-2 virus and, thus, represented the solution to ending the COVID pandemic once and for all. Those opting not to get the shots and remain unvaccinated were then, logically, to blame for the unnecessary continuation of the pandemic.
Of course, this underlying assumption about how unvaccinated people were the ones getting infected with SARS-CoV-2 and spreading the virus was already on very shaky ground at the time. In January 2021, The Vaccine Reaction reported that the World Health Organization (WHO) had warned that there was no guarantee the COVID shots would prevent people from getting infected with SARS-CoV-2 and transmitting it to others.10
The TVR article, written by Barbara Loe Fisher, also noted a Newsweek interview with Anthony Fauci, MD, director of the National Institute of Allergy and Infectious Diseases (NIAID), which reinforced the WHO's admission that health officials did not know if the COVID shots could prevent infection and transmission.10 Fisher wrote:
According to WHO officials, while it appears the vaccines can prevent clinically symptomatic COVID-19 clinical disease, there is no clear evidence COVID-19 vaccines are effective at preventing asymptomatic infection and transmission.10
Fisher quoted WHO chief scientist and pediatrician Soumya Swaminathan, MD, who said:
We continue to wait for more results from the vaccine trials to really understand whether the vaccines, apart from preventing symptomatic disease and severe disease and deaths, whether they're also going to reduce infection or prevent people from getting infected with the virus, then from passing it on or transmitting it to other people. I don't' believe we have the evidence on any of the vaccines to be confident that it's going to prevent people from actually getting the infection and therefore being able to pass it on.10
CDC Admits Fully Vaccinated People Can Catch and Spread SARS-CoV-2
During the summer of 2021, there was an outbreak of COVID in Provincetown, Massachusetts, in which 74 percent of the people infected with SARS-CoV-2 and diagnosed were fully vaccinated. After analyzing the data from the outbreak, the U.S. Centers for Disease Control and Prevention (CDC) announced that vaccinated individuals can become infected with the SARS-CoV-2 virus and transmit it to others.11
That was a watershed moment in the pandemic because that is when it became clear that the available COVID shots could not be relied on to protect against SARS-CoV-2 infection and transmission. That is the moment in history that the rationale for blaming unvaccinated people for ongoing COVID pandemic ceased to make any sense.
But still, the media persisted, even after CDC director Rochelle Walensky, MD publicly stated on Aug. 5, 2021 that while she believed the COVID shots "work well" with the Delta variant of the SARS-CoV-2 virus "with regard to severe illness and death," they are no longer able to "prevent transmission" of the virus. On Aug 12, 2021, Salon published an article titled "It's OK to blame the unvaccinated — they are robbing the rest of us of our freedoms." A few days later, on Aug. 16, the Los Angeles Times published an article titled " We can't blame the unmasked and unvaccinated for being irresponsible? Really?"7 8 12
By the end of 2021, the hit pieces in the media against Americans unvaccinated for COVID began to dry up as it began to sink in that the shots were not stopping the spread of the SARS-CoV-2 virus. Given that the CDC had plainly stated the COVID shots could not prevent SARS-CoV-2 infection and transmission, the argument in favor of vaccination would no longer be about protecting others but rather about protecting oneself. That made it much more difficult for the media to target unvaccinated people. If people didn't want to protect themselves, well then so be it… that was their problem.
By 2022, the corporate media seemed to have tired of attacking unvaccinated Americans. Clearly, the attacks had become harder to justify, as more information seeped out about the inability (or poor or unknown ability) of the COVID shots to prevent SARS-CoV-2 infection and transmission.13 14 15
Pfizer Admits Shot Never Tested to Show Ability to Prevent SARS-CoV-2 Infection and Transmission
Finally, on Oct. 11, 2022, Pfizer's president of international developed markets, Janine Small, admitted that the company's BNT162b2 mRNA biologic (now known as "Comirnaty") was never tested on its ability to prevent SARS-CoV-2 infection and transmission before it was made available to the general public.16 17 18 Small was testifying before a committee of the European Parliament when she was asked the following question by MEP Rob Roos of The Netherlands:
Was the Pfizer COVID vaccine tested on stopping the transmission of the virus before it entered the market?16 17 18 
Small responded:
No. These, you know, we had to really move at the speed of science to really understand what is taking place in the market. And from that point of view, we had to do everything at risk.16 17 18 
In a video he posted shortly afterward, Roos said:
If you don't get vaccinated, you're anti-social. This is what the Dutch Prime Minister and Health Minister told us. You don't get vaccinated just for yourself, but also for others. You do it for all of society. That's what they said. Today, this turns out to be complete nonsense. In a COVID in the European Parliament, one of the Pfizer directors admitted to me: at the time of the introduction, the vaccine had never been tested on stopping the transmission of the virus. This removes the entire legal basis for the COVID passport. The COVID passport that led to massive institutional discrimination as people lost access to essential parts of society. I find this to be shocking, even criminal.18 
After all of this, you would think that the idea of attacking people for not getting a COVID shot would be a thing of an unpleasant, misinformed past—that we could move on from this silly and dangerous exercise of scapegoating a large segment of a population. Not so.
Los Angeles Times Resumes Hit Pieces Against Unvaccinated Americans
On Nov. 3, 2022, the Los Angeles Times published an article titled "Are the unvaccinated still a danger to the rest of us?" The article, written by Melissa Healy appears to be a marketing piece for the new bivalent booster shots given Emergency Use Authorization (EUA) by the U.S. Food and Drug Administration (FDA) on Oct. 12. Yes, the updated Pfizer and Moderna ones (Comirnaty and Spikevax) that recent studies by Columbia University and Harvard University found to be no more effective against the BA.4 and BA.5 Omicron subvariant viruses than the original monovalent formulations of the shots.19 20 
Healy goes after unvaccinated people, but she also targets those who are not fully vaccinated and up to date with the boosters. She writes:
The steady waning of immunity raises a discouraging prospect: that over time, people who are still called "fully vaccinated" will become indistinguishable from the unvaccinated unless they've received a booster. Until more Americans embrace booster shots, the "undervaccinated" will steadily swell the ranks of the vulnerable.19
"Wherever they are," warns Healy, "they'll help keep the pandemic going."19
References
1 Cáceres M. Is it Really a Pandemic of the Unvaccinated? The Vaccine Reaction Aug. 29, 2021.
2 Chalfant M. Biden blames unvaccinated for US's COVID-19 slog. The Hill Sept. 9, 2021.
3 Mazza E. GOP Governor Says It's Time To 'Blame The Unvaccinated' For Pandemic Surge. HuffPost July 23, 2021.
4 Miller Z. Biden Grappling With 'Pandemic of the Unvaccinated'. NBC New York July 17, 2021.
5 White House. Press Briefing by White House COVID-⁠19 Response Team and Public Health Officials. July 16, 2021.
6 Frum D. Vaccinated America Has Had Enough. The Atlantic July 23, 2021.
7 Goldberg N. We can't blame the unmasked and unvaccinated for being irresponsible? Really? Los Angeles Times Aug. 16, 2021.
8 Marcotte A. It's OK to blame the unvaccinated — they are robbing the rest of us of our freedoms. Salon Aug. 12, 2021.
9 Mastrangelo D. CNN's Berman asks: 'If unvaccinated' not to blame for delta surge, 'who is?'. The Hill July 29, 2021.
10 Fisher BL. WHO, Fauci Warn COVID-19 Vaccines May Not Prevent Infection and Disease Transmission. The Vaccine Reaction Jan. 3, 2021.
11 TVR Staff. COVID Vaccines Not Proven to Prevent SARS-CoV-2 Infection or Transmission. The Vaccine Reaction Aug. 9, 2021.
12 Cáceres M. COVID Vaccines No Longer Able to "Prevent Transmission" of SARS-CoV-2. The Vaccine Reaction Sept. 12, 2021.
13 Frazer J. The Risk of Vaccinated COVID Transmission Is Not Low. Scientific American Dec. 16, 2021.
14 Miltimore J. Spain's First Study on Omicron Finds Vaccinated People Spread COVID at Same Rate as Unvaccinated. The Vaccine Reaction Feb. 6, 2022.
15 Wilder-Smitha A. What is the vaccine effect on reducing transmission in the context of the SARS-CoV-2 delta variant? Lancet Infect Dis February 2022; 22(2): 152–153.
16 Clemons J. Pfizer Exec Admits COVID Vaccine Never Tested to Prevent Transmission. Newsmax Oct. 11, 2022.
17 news.com.au. Pfizer did not know whether Covid vaccine stopped transmission before rollout. YouTube.
18 Turner R. Pfizer Confirms mRNA Vaccine Never Tested for Preventing COVID Transmission. Medika Life Oct. 12, 2022.
19 Healy M. Are the unvaccinated still a danger to the rest of us? Los Angeles Times Nov. 3, 2022.
20 Cáceres M. New COVID Shots Same As Old Ones. The Vaccine Reaction Oct. 31, 2022.

© 2023 FM Media Enterprises, Ltd.