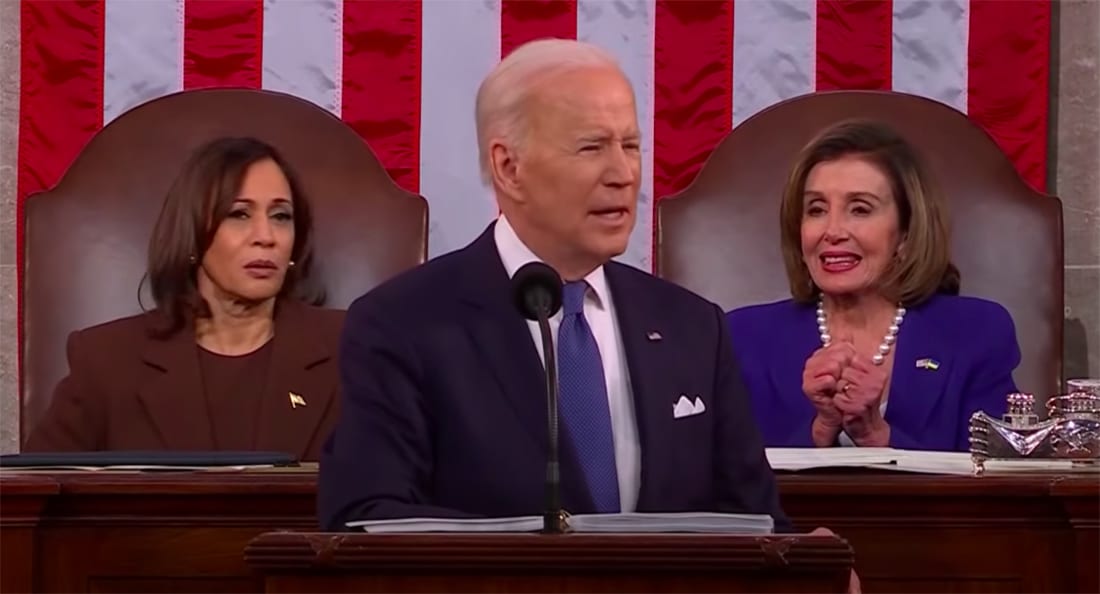 Democrats Are Violent Extremists
by Caitlin Johnstone | Sep 2, 2002
Listen to a reading of this article:
Republicans are up in arms over remarks from the White House depicting the Trump-aligned faction of their party as "extremist", which Press Secretary Karine Jean-Pierre defended Thursday by saying that MAGA Republicans are extremist because they disagree with the majority of Americans.
"When you are not with what majority of Americans are, then you know, that is extreme; that is an extreme way of thinking," Jean-Pierre said.
Every part of this controversy is hilarious, from Republicans thinking they are not extremists, to anyone thinking that MAGA Republicans are meaningfully different from generic brand Republicans, to Democrats thinking they are any less extremist than MAGA Republicans, to Jean-Pierre claiming that you are extremist if you don't agree with mainstream political consensus in the United States.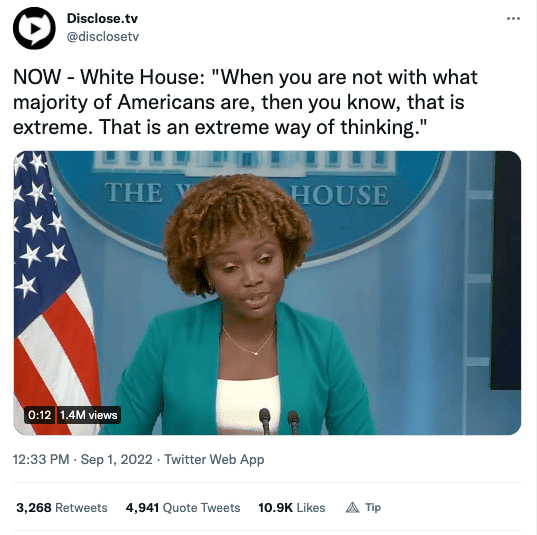 If you look at who is inflicting the most violence, terrorism and tyranny upon the largest number of people in our world, it's clear from the numbers that the worst offender by far is not fringe neo-Nazi groups, nor violent jihadists, nor communists nor anarchists nor environmentalists nor incels, but the bipartisan political consensus of the US-centralized empire.
No other power has spent the 21st century killing people by the millions in wars of aggression. No other power is circling the planet with hundreds of military bases and working continuously to destroy any government which disobeys it. No other power is starving entire populations with economic sanctions, military blockades and brazen theft. No other power has been interfering in foreign elections anywhere near as often. No other power is terrorizing populations around the world with wars, covert ops, drone strikes, proxy conflicts, and staged coups and uprisings. No other power is using its military, economic, diplomatic and media dominance to bully the world into serving its interests.
The only reason the mainstream views espoused by Democrats and Republicans are mainstream is because massive amounts of narrative management have gone into creating that consensus. The fact that the social engineers of the oligarchic empire have poured vast fortunes into making sure Americans consent to capitalism, corruption, militarism and murder is the only reason those perspectives are so mainstream that they can be labeled "moderate" or "centrist".
When people hear the word "extremist" they tend to think of groups like ISIS or the Ku Klux Klan, but per definition an extremist is just someone whose political or religious beliefs can lead them to do violent or illegal things. The US empire would crumble if it didn't do violent and illegal things continuously, which is why its body count dwarfs those of any of the extremist ideologies the news media tell us to worry about. And it is fully supported by both Republicans and Democrats.
To pick a recent illustration of essentially limitless possible examples, imagine what the response would have been if a prominent MAGA pundit had given an award to neo-Nazis at an event hosted by the US military during the Trump administration. Imagine how Democrats and their aligned media would have responded to such an event.
Can you picture it? Can you hear the shrieking in your mind's ear? Good. Because that's exactly what happened at the Pentagon's annual Warrior Games at Disney World a few days ago, only it was a liberal pundit and Ukrainian Nazis during the Biden administration.
In a new report titled "Jon Stewart and the Pentagon honor Ukrainian Nazi at Disney World," The Grayzone's Alex Rubinstein shows the former Daily Show star presenting an award to a member of Ukraine's neo-Nazi Azov Battalion who is wearing a t-shirt and a suspicious-looking red sleeve on one of his arms, with another photo showing the same Azov member a tattoo of a Nazi symbol on that same arm. Rubinstein presents evidence that this wasn't the only Nazi-affiliated Ukrainian at the event, which was also attended by musician Darius Rucker.
I keep thinking I've seen the most liberal thing that could possibly happen, but 2022 keeps proving me wrong. I have a hard time imagining how you beat a liberal comedian honoring a Ukrainian Nazi with an award at a Pentagon event in Disney World, but I'm sure they'll find a way before long.
Biden is advancing the interests of the murderous US empire by waging a world-threatening proxy war in Ukraine whose combatants can't seem to get photographed without Nazi insignia on their person. Trump advanced the interests of the US empire by inflicting death and starvation in nations like Yemen, Venezuela, Iran and Syria, as well as ramping up the brinkmanship with Russia which led to the current proxy war in Ukraine. The Biden administration is the Trump administration with a different soundtrack. The Trump administration was the Obama administration with a different soundtrack. They are all violent extremists. None are superior to the other. They all serve the interests of the most murderous and depraved institution on earth, as does anyone who supports any of them.
Democrats calling Republicans extremists is like ISIS calling Al Qaeda extremists, only Democrats and Republicans have a much higher body count.

© 2023 FM Media Enterprises, Ltd.