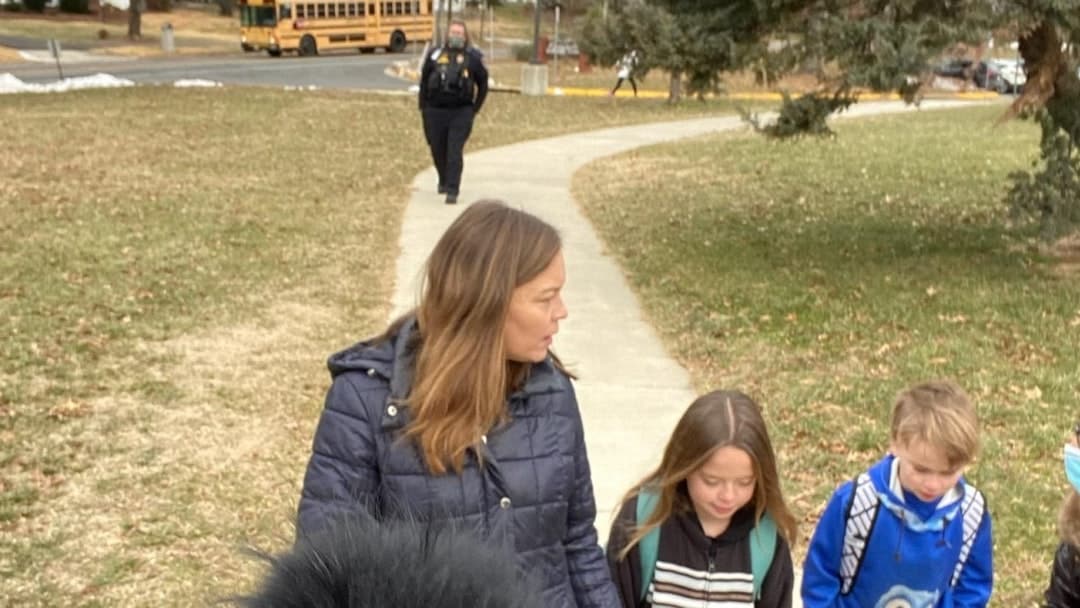 Fairfax Schools Suspend Kids, Call Police, Defying VA Governor On Masks
Fairfax County Public Schools made a show of defying Virginia Gov. Glenn Youngkin's order that schools respect parental rights on masking on Tuesday, with an assistant principal standing in front of the school to suspend students without masks, and a public relations staffer who said the media was not allowed to watch the conflict between state and local governments play out.
At one classroom exterior door, a teacher in a dark mask and a full-face plastic shield resembled Darth Vader as she peered through the glass and, after seeing a masked child out front, opened the door a crack to let him in.
Providing muscle was a large security guard who inadvertently illustrated parents' concerns by removing his mask to lecture a parent because "I can't speak with this thing." At another point, the security guard lashed out at a former school board member after his own mask caused his glasses to fog up to the point that he could not see who he was talking to.
Parent Carrie Lukas walked her two children to the front door of Forestville Elementary, their smiling faces visible on school grounds for the first time in two years. She did not make it to the doorway before she was confronted by an assistant principal, who said the children would not be allowed in the school. Security guard Christian Fuller followed as they retreated to their car.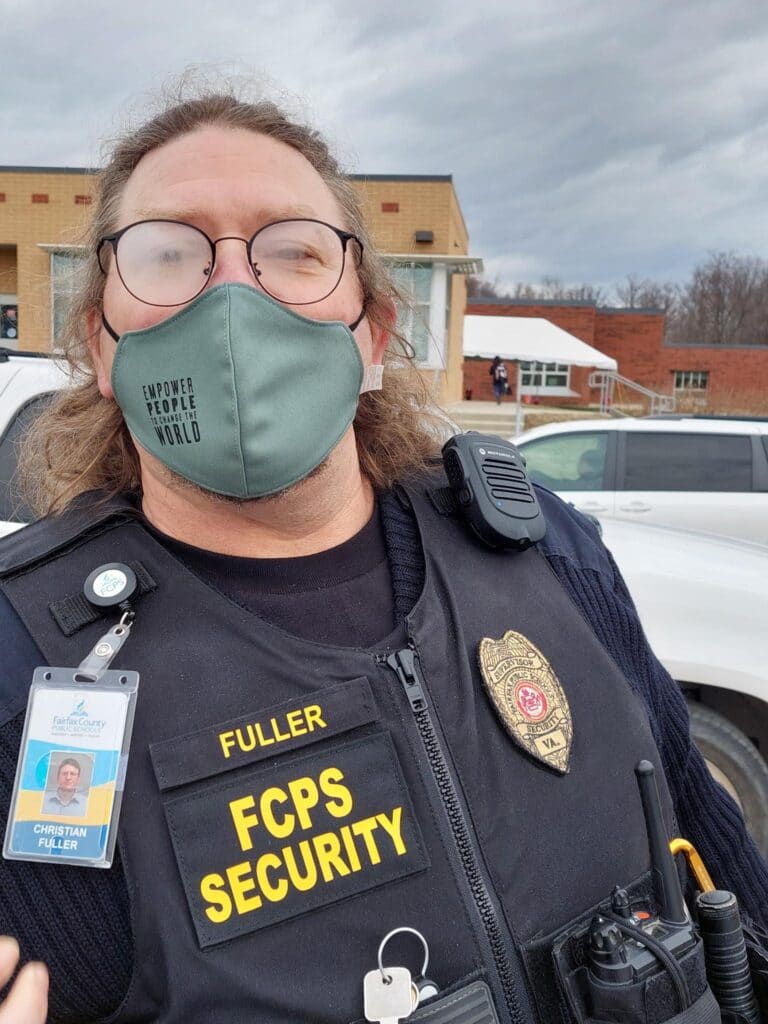 A Fairfax County "media liaison" demanded that a Daily Wire reporter leave as he wrote down the polite words exchanged between Lukas and the assistant principal, saying the journalist must go to what she deemed a "media staging area" in a residential neighborhood about fifty yards away. There were no other media present.
Fuller then called the police, saying they would arrest a reporter for being in the school parking lot. Former school board member Tom Wilson, a Republican, intervened to express First Amendment concerns, saying "we'll see," to which Fuller replied, "Are you threatening me?"
Two undercover police cars and one marked patrol car soon arrived at the scene, where they were met by the "media liaison" and Fuller.
By then, Lukas and her newly delinquent kids were at a neighborhood diner for chocolate pancakes and a lesson on civics.
The invocation of harsh punishment seemed to fly in the face of years of claims by the school board and local Democratic politicians. The school board has frequently lamented that students should not be suspended for less-than-egregious offenses, calling it racist and saying it leads to the "school-to-prison pipeline." The pipeline idea posits that otherwise good kids will become so disenfranchised after being suspended that it could cause them to turn to a life of crime in later life.
Board members Karen Keys-Gamarra and Rachna Sizemore Heizer, who have frequently lamented excess suspensions and the school-to-prison pipeline, did not return a request for comment on how the suspension of students for not wearing masks fits with that view.
Meanwhile, many minor crimes — including trespassing — are not prosecuted by Fairfax commonwealth's attorney Steve Descano, who views criminalizing people for such offenses as an affront to social justice.
FCPS allows 7th-12th graders to skip school to participate in activism, a policy that critics said seemed to be aimed at pushing children to be liberal activists only. But mask advocacy was not greeted so warmly.
"I found it unfortunate that FCPS decided to treat us as though we were going to be violent criminals or something,  and had a security guard and press person and really were trying to make it as uncomfortable as possible for us to exercise what I view as our First Amendment rights to come and have this polite exchange with our children's schools," Lukas said.

"You think about the waste and everything that FCPS should be doing with those dollars, all of the problems and needs we hear about consistently. They're hiring press teams, they're filing lawsuits? Where are they caring about our kids? Why aren't they prioritizing educating our kids?" she added.
"They see this obviously as a political showdown. They've dug in and they aren't putting kids first. They obviously have other priorities," she said.
"I've heard from a lot of parents who share my sentiments, who believe that masks are harmful to kids, who obviously recognize that these paper masks and cloth masks are absolutely doing nothing but making it harder to breath, harder to communicate, harder for them to learn, but they didn't want to speak out, they didn't want to take this stand, because they were afraid of the blowback."
FCPS is suing the governor, saying "With COVID-19 transmission rates high, our hospitals at crisis level, and the continued recommendation of health experts to retain universal mask-wearing for the time being, this is simply not the time to remove this critical component of layered health and safety mitigation strategies."
Lukas — who works with the Independent Women's Network — mocked that logic: "'Our layered strategy is working so well that we have the biggest surge of infections now?""
FCPS was closed for a teacher workday on Monday, meaning Tuesday was the first day of the mask showdown. In Loudoun County on Monday, parents said students have been trained to wear masks nonstop by teachers who bully them and express fear.
A parent said one child has become reluctant to take off his mask, saying "I wouldn't want anyone to see my expression."
Most Loudoun students interviewed by The Daily Wire on Monday said they disagreed with the mask mandate, but would comply anyway for fear of punishment from teachers. Loudoun students who were not masked were moved to a separate room, where one parent said they were not allowed to speak all day.
Clint Thomas wrote to Loudoun Superintendent Scott Zeigler on Tuesday to say "We have just learned our girls and other maskless students in confinement are now being denied the ability to get water? … We're told an admin is now guarding the door to the aux gym in case any else tries to leave. Is this now a prison or a school building?"
The Daily Wire is building up its investigative reporting team to bring you more stories like this one and hold those in power to account.  Help us expose the stories the legacy media refuses to report on by becoming a Daily Wire member today: dailywire.com/subscribe.

© 2023 FM Media Enterprises, Ltd.