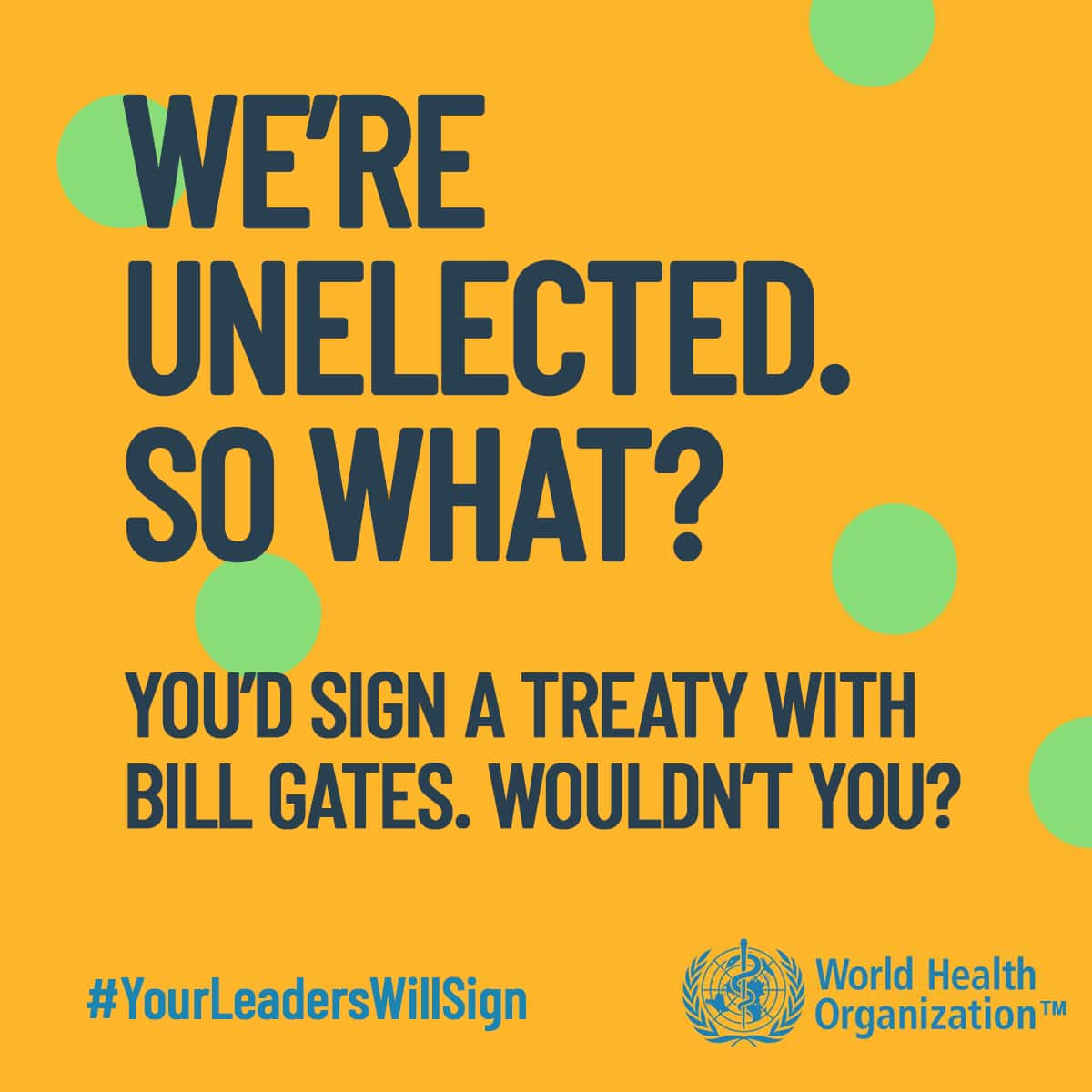 Help stop the World Health Organization power grab!
by The Weston A. Price Foundation | March 6, 2023
A new bill titled the WHO Withdrawal Act, HR79, would rightfully require the President to immediately withdraw the United States from the World Health Organization (WHO) and prohibit using any federal funds to provide U.S. participation in the WHO.
Currently, the U.S. is involved in negotiations intended to strengthen the power of the corrupt WHO through an international treaty and updates to the International Health Regulations (IHR 2005).  This is very bad news!
The treaty and IHR amendments threaten U.S. and individual sovereignty by giving the WHO unlimited power to dictate health policy decisions, require U.S. financial support in the name of "preparedness" for future pandemics, and more.
Terminating U.S. participation in the WHO is necessary to prevent endless health "emergencies," mandatory medical treatments, quarantines, travel restrictions, global health certificates, censorship, gain-of-function research, and billions of wasted tax dollars.
HR79 has been introduced in the U.S. House and is ready to move, but we need your support!
TAKE ACTION
Contact your U.S. House Representative and ask him or her to support HR79.
You can find who represents you at: https://www.congress.gov/contact-us
Calls are more effective than emails and only take a few minutes.  Below is a Sample Script, and there are additional Talking Points. Use your own words when you call or email – a personal message is always more effective than a form message!
SAMPLE SCRIPT:
"Hi, my name is ___, and I am calling to ask Representative ___ to SUPPORT HR79.
This terrific bill would require the withdrawal of the U.S. from the WHO and prevent the funneling of billions of tax dollars to corrupt, unelected global decision-makers with a poor track record.
The WHO is attempting a dangerous power grab to create a worldwide medical police state that will control every primary care physician in America whenever the WHO declares a public health emergency.
It is widely accepted that the WHO mishandled the COVID response.  They cannot be trusted to dictate what constitutes a pandemic nor manage future responses to pandemics.
Giving more power to the dysfunctional WHO is a threat to national security and to the U.S. Constitution.  U.S. states have the right and responsibility to keep their citizens safe through their own public health choices.
A one-size-fits-all global health security agenda is not in the best interest of U.S. citizens.  In fact, it puts American lives in danger and threatens national sovereignty.
Without lawmakers' approval, the WHO should not be granted the authority to dictate domestic policy.
The new international treaty and amendments they seek would give the WHO authority regarding medical treatments, government regulations such as lockdowns and vaccine mandates, and monitoring and surveillance of citizens.
I urge Representative ____ to support this protective bill."
TALKING POINTS:
A "Pandemic Treaty" was proposed in 2022 and is scheduled to be presented for adoption at the World Health Organization's (WHO) World Health Assembly in 2024.  The International Health Regulations (IHR) are also scheduled to be amended at the same time, with over 300 amendments under consideration.
Recently G20 leaders signed a "declaration" to amend the International Health Regulations (IHR) at the next World Health Assembly.  These amendments include the REMOVAL of the following text from the existing IHRs: "with full respect for the dignity, human rights and fundamental freedom of persons," which tells us that our human rights and freedoms are at risk.
The proposed WHO amendments would make the WHO's proclamations legally binding rather than just advisory recommendations.  The changes would institute global digital health certificates and dramatically increase the billions of dollars available to the WHO.  See a list of 100 reasons not to empower the WHO here: https://azradale.substack.com/p/100-reasons-to-exit-the-who-stopthetreaty
It is incumbent upon Congress to stop the attempted coup of the U.S. by the World Health Organization (WHO) and its parent organization, the United Nations (UN), by exiting the WHO.
Exiting the WHO is a straightforward process.  All we need to do is give the WHO one-year notice and meet our financial obligations according to the joint resolution Congress signed on June 14, 1948, when we joined the WHO.
The WHO and its leader General Tedros Adhanom Ghebreyesus, undeniably assisted China in hiding the COVID-19 pandemic.  Recently they announced they will not be investigating the origins of COVID-19 due to a lack of cooperation by Chinese Communist Party officials.   https://rumble.com/v2b3izu-the-who-and-china.html
The U.S. is currently involved in negotiations that will strengthen the WHO.  President Biden supports a global health security agenda and the Zero Draft of the pandemic treaty that will override American sovereignty. See an op-ed authored by Biden in 1992, titled "How I Learned to Love the New World Order," to understand his long-time position on global health here: https://standforhealthfreedom.com/blog/who/
MORE INFORMATION:
View text, status, and history of the bill here:
https://www.congress.gov/bill/118th-congress/house-bill/79
See proposed Amendments to the International Health Regulations:
https://apps.who.int/gb/wgihr/pdf_files/wgihr2/A_WGIHR2_5-en.pdf
https://apps.who.int/gb/wgihr/pdf_files/wgihr2/A_WGIHR2_6-en.pdf
https://apps.who.int/gb/wgihr/pdf_files/wgihr2/A_WGIHR2_7-en.pdf
Read about the proposed Pandemic Treaty:
https://apps.who.int/gb/inb/pdf_files/inb4/A_INB4_3-en.pdf

© 2023 FM Media Enterprises, Ltd.