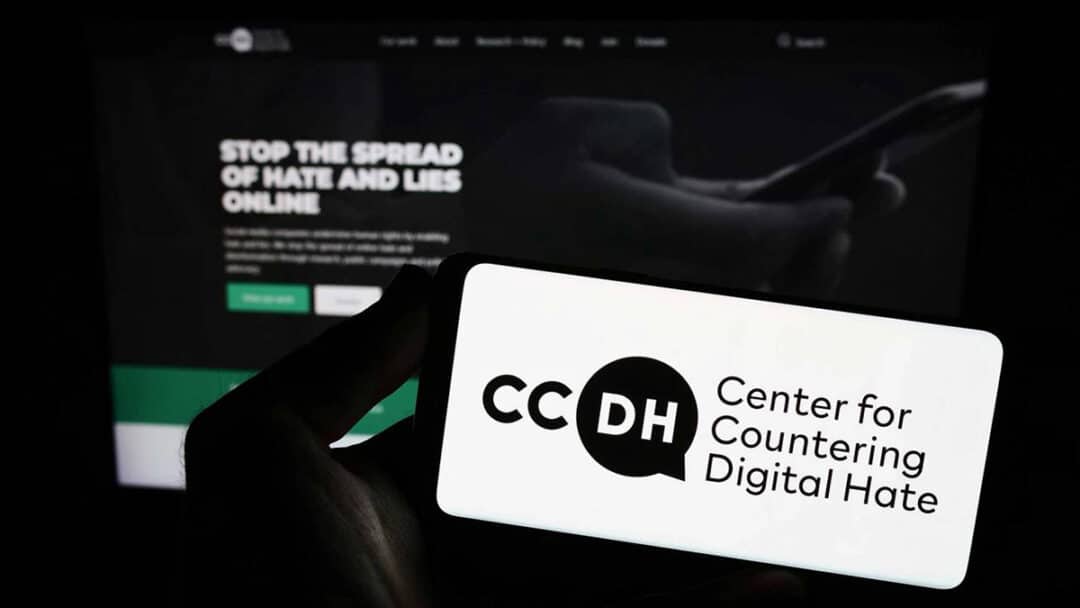 The New Push for Censorship Under the Guise of Combating Hate
by Paul D. Thacker | Oct 1, 2023
In March of 2021 a nonprofit group called the Center for Countering Digital Hate (CCDH) released a report about online misinformation. Founded in the U.K. by a former Labour Party political figure named Imran Ahmed, the CCDH was virtually unknown at the time in the U.S., but that was about to change. The report quickly reached the hands of executives at Twitter. "COVID-19 misinfo enforcement team is planning on taking action on a handful of accounts surfaced by the CCDH report," a Twitter official wrote on March 31. One account they eventually took action against belonged to Robert F. Kennedy Jr., who is now running against Joe Biden for the Democratic Party's nomination for president.
A few months later, the same report was being cited by the Biden administration. At a press briefing in July 2021, White House Press Secretary Jen Psaki quoted from the CCDH report in a briefing where she accused Facebook of undermining federal vaccine policies. "There's about 12 people who are producing 65% of anti-vaccine misinformation on social media platforms," Psaki claimed, citing the CCDH's work, while warning social media companies to shut down these "misinformation" accounts. "They're killing people," President Biden told a reporter a short time later, leveling the charge of murder against Facebook for its alleged role in providing a platform for "vaccine misinformation."
Facebook's Vice President Monika Bickert later criticized CCDH's claims for being free of evidence—failing to define the term "anti-vaxx," for example—and neglecting to explain how they came up with their numbers and conclusions. But it had little effect. By then the report had popularized the idea of a "disinformation dozen," a narrative that hardened as it was promoted by countless news outlets, fact checkers, and social media accounts devoted to round-the-clock attacks on "disinformation."
More recently, the CCDH has popped up again, leading the battle against Twitter's new owner, Elon Musk, who has been cast as a champion of racists and antisemites. "The CCDH has been at the forefront of reporting on the hate proliferating on X/Twitter since Musk completed his takeover in late October 2022," Ahmed wrote last month in The Observer. In a number of publications over the past year, the group has repeatedly blamed Musk for allowing his platform to spread hate speech. Once again, these efforts have been uncritically amplified in the press and in a letter to Musk from House Democrats that reiterates Ahmed's claims, and cites him and CCDH.
What, then, do we know about the CCDH? In effect, it seems, the organization provides the White House with a powerful weapon to use against critics including RFK Jr. and Musk, while also pressuring platforms like Facebook and Twitter to enforce the administration's policies. While few journalists have bothered to investigate the opaque group, the available evidence paints a picture that is likely different from what many in the public would expect of a "public interest" nonprofit.
The scale of the CCDH's success must be emphasized for those unfamiliar with the crowded mob of D.C.-based nonprofits churning out reports that seldom get a passing glance from the nation's policymakers. For a tiny, unknown, nonprofit to gain so much attention in D.C.'s crowded, competitive policy space is akin to a pudgy, amateur athlete catching the winning touchdown in the Super Bowl, while setting a new world record in the marathon, all in one week.
So who is the CCDH's founder and leader Imran Ahmed? Where does he get his money? Why did he decide to leave behind politics and start a nonprofit focused on misinformation? And perhaps most importantly, how did a relative unknown from London gain such enormous influence from the White House bully pulpit and within Democratic Party politics?
Imran Ahmed is a political operative who spent several years advising conservative members of the British Labour Party before jumping into nonprofit campaigning to run two interrelated dark money groups: Stop Funding Fake News and the Center for Countering Digital Hate. Shortly after appearing on Twitter in 2019, Stop Funding Fake News claimed some very sizable left-wing scalps in London, mostly by lobbing vague accusations of fake news at political enemies. The group helped to run Jeremy Corbyn out of Labour Party leadership while tanking the lefty news site Canary, after starting a boycott of their advertisers, according to reports in British media outlets, sources who spoke with Tablet, and CCDH's own claims of success.
Although CCDH is still based in the U.K., Ahmed grew the group dramatically after he jumped across the Atlantic to incorporate CCDH as a D.C. nonprofit in 2021. In the states, he forged ties in Hollywood: Talent agent Aleen Keshishian, who teaches in the cinema program at the University of Southern California, now sits on his board. Just as he had done for the Labour Party, Ahmed used the CCDH to attack as "conspiracy theorists" and "anti-vaxxers" various critics of the Biden arm of the Democratic Party.
After Robert F. Kennedy Jr. announced he was running against Biden for the Democratic nomination and appeared on Joe Rogan, Ahmed told the BBC, "He's working really hard to keep people from knowing he's a hardcore anti-vaxxer."
When a federal judge chastised the Biden administration for possible censorship and restricted federal agency interactions with social media companies last July, Ahmed criticized the decision in a New York Times report.
In a replay of his success in the U.K., Ahmed is now trying to drive away Elon Musk's advertisers on X, this time based on dubious claims that the social media site is a playground for racists. Speaking to the Financial Times, Ahmed said, "We don't talk in the language of technology, we talk in the language of morality … Advertisers are also human beings. Some of them just don't want to fund the primary vector of hate and disinformation in our society."
Ahmed's history is hard to track. The two groups he has run—Stop Funding Fake News and CCDH—seem to pop up out of nowhere, switch addresses, rarely disclose funders, omit naming all employees, and feature websites that change names or disappear from the internet. Jen Psaki's reference to the "Disinformation Dozen" report made the group famous in July 2021, yet the Internet Archive only has records beginning in 2022 for CCDH's website.
One rumor that came up often in the dozen or so conversations I've had, with people who have observed Ahmed for years, is that he works for British intelligence. Along with other questions emailed to Ahmed a couple weeks back, Tablet asked him to address the allegation he is connected to British intelligence, but he did not respond to repeated requests for comment. One of Ahmed's long-standing friends told me that Ahmed once mentioned that he had applied to either MI5 or MI6. Because the conversation took place so long ago, the friend couldn't remember which of the two British intelligence agencies it was, and they never later discussed if he had gotten in.
"There's nothing surprising about this," said Mike Benz, a former State Department official who now runs the Foundation for Freedom Online, a free-speech watchdog. "This is not the first rodeo of British and U.S. intelligence services creating a cutout for the purpose of influencing the online news economy, to rig public debate in favor of political speech that supports agency agendas." Ahmed's story is critical to understanding the new push for censorship under the guise of combating hate.
Although he comes from a poor family, Ahmed got a scholarship to attend Britain's prestigious Manchester Grammar school where he excelled, becoming editor of the student newspaper, and then graduating to attend medical school. People who know him describe him as brilliant, and after dropping out of medical school, he studied politics at the University of Cambridge, later becoming an adviser to several members of Parliament in the conservative wing of the Labour Party.
While Ahmed eventually acknowledged in 2020 that he helped launch both Stop Funding Fake News and the Center for Countering Digital Hate, his involvement remained hidden for some years. Stop Funding Fake News started in February 2019 claiming to be a "social movement" too frightened to name its own grassroots activists.
"We didn't want the levels of hate that far braver people than ourselves have been subjected to," some of their anonymous members told the British publication Jewish News in April 2019. While proclaiming that you fear for your own safety is a common trope among disinformation activists, members of Stop Funding Fake News showed no trepidation at a meeting with advertising and media agencies to target political opponents.
As Stop Funding Fake News activists told a news site later that June, they convinced 40 brands—including Adobe, Chelsea FC, Harry's, Experion, eBay, Moonpig, and Manchester United—to block some news outlets from running their ads, essentially starving the sites of revenue in a tactic called "demonetizing." Stop Funding Fake News also announced that they were "educating" ad agencies, although this seems a euphemism for targeting people or messages that you don't like. As reported by the British marketing industry news site The Drum:
It said it is now expanding its network to help 'persuade' ad agencies that it is 'bad for their clients to be associated with the lies and racism found on these sites, so it's in the interest of ad agencies to ensure they don't put them there.'
That same month, Stop Funding Fake News claimed a big scalp, taking out the Canary, a leftist news site aligned with the political priorities of then-Labour Party leftist leader Jeremy Corbyn. "The Canary has announced that, thanks to our campaign, its business model 'no longer works' & they're downsizing," the group tweeted in triumph. "We want to spend more time and resources on this campaign & target new sites."
Even as they remained "anonymous activists," Stop Funding Fake News clearly had considerable influence with British politicians. In October 2019, a Labour Party MP cited Stop Funding Fake News as the reason advertisements promoting free tours of the Houses of Parliament should be "removed immediately" from Breitbart. "The Stop Funding Fake News Campaign have spotted that adverts for tours of Parliament have been hosted on Breitbart, the extremist, far-right, white supremacist fake news website set up by Steve Bannon," the MP said.
The diminished stature of the lefty Canary did not bode well for Jeremy Corbyn, and by the end of 2019, more conservative elements in the party had dismissed him from Labour leadership, as the establishment centrist Keir Starmer wrestled back control. But by late 2020, the game was up with Stop Funding Fake News, whose "anonymous activists" were found to be Imran Ahmed and his Labour Party colleagues. Ahmed had by then admitted he ran Stop Funding Fake News, and the Canary news site had figured out that SFFN shared a web server with the Center for Countering Digital Hate.
"SFFN would argue that, while websites that publish fake news have a right to free speech, they don't have a right to make money from it," the Canary reported in December 2020. "But on what authority can this group decide what is and is not 'fake news'?" The Canary also pointed out that, like all British news sites, the British government regulated them, while Stop Funding Fake News operated in the shadows, free to attack, without any regulation or requirement to disclose members or funders.
"We declare this a hate site," said former Canary editor Kerry-Anne Mendoza, describing the scorched-earth war against her news outlet. In retrospect, Mendoza said the entire campaign was designed to hammer the British left, plastering labels of "hate" and "fake news" on them that crumbled once government regulators got around to examining the allegations. "They accuse you of hate. Our regulator said the opposite, but that was irrelevant."
Having throttled the Labour Party's left wing, Stop Funding Fake News became moribund, rarely tweeting from their social media account. Not that this mattered. Ahmed began running most of his operations from the Center for Countering Digital Hate and pivoted his focus to the U.S. where his list of "disinformation" targets just happened to be critics of the Democratic Party establishment.
The Center for Countering Digital Hate registered in late 2018 in London, first as Brixton Endeavours Limited, before changing its name to the Center for Countering Digital Hate. When first incorporated, the CCDH's only director was a staffer for Keir Starmer, a member of the conservative wing of the Labour Party. The group shared an address with an organization that supported Starmer as well. Damian Collins, a member of the Tory Party, later joined as an officer.
In late 2020, CCDH launched a campaign against British TV personality Katie Hopkins, a right-wing populist in the mold of the American writer Ann Coulter. After Ahmed met with Twitter officials, he succeeded in getting Hopkins briefly removed from the site by claiming she trafficked in hate, later describing her as an "identity-based hate actor." Celebrating their success, CCDH told media outlets, "We believe social media can empower the world to be even better, but handing megaphones to hate actors is irresponsible and dangerous."
But campaigning against social media companies makes little sense when most of them are based in the United States, and Ahmed eventually moved to D.C., where he now lives, apparently with an American woman with whom he became engaged.
According to tax records, Ahmed began to run CCDH from D.C. in 2021, and CCDH took in $1.47 million in their very first year operating in the United States. Nonprofits are not required to disclose their donors, and CCDH did not respond to questions about their funders. However, I happened upon the Schwab Charitable Fund, which allows people to set up private accounts to make anonymous donations. According to Schwab's 2021 tax forms, someone donated $1.1 million to CCDH, meaning someone secretly gave Ahmed's group almost 75% of the donations they raised in their first year.
Other parts of CCDH's tax records provide interesting insights. The group's chairman is Simon Clark, a former senior fellow at the Center for American Progress (CAP), a D.C. think tank aligned with the corporate arm of the Democratic Party. CAP was founded by John Podesta, who chaired Hillary Clinton's 2016 campaign against Donald Trump. And yes, CAP has close ties to the Biden administration. In other words, the CCDH may not be an objective civic group carrying out disinterested research. Indeed, one might conclude that CCDH functions as an arm of the corporate wing of the Democratic Party, to be deployed against the perceived enemies of corporate Democrats, whether they come from the left or the right.
One might conclude that CCDH functions as an arm of the corporate wing of the Democratic Party, to be deployed against the perceived enemies of corporate Democrats, whether they come from the left or the right.
Clark was also a senior fellow at the Atlantic Council's Digital Forensics Lab. Matt Taibbi has reported that various U.S. government agencies and defense contractors fund the Digital Forensics Lab which remains a central piece in the "censorship industrial complex."
"The Atlantic Council, in the past several years, has had seven CIA directors on its board of directors or board of advisers," said Benz. "And it's one of the premier architects of online censorship."
A source close to Ahmed told me he has bragged about meeting celebrities in Los Angeles and the actor Mark Ruffalo has tweeted in support of him. Ahmed's Hollywood ties may be explained by one of CCDH's legal directors, the agent and cinema professor Aleen Keshishian, who has managed Natalie Portman and Selena Gomez. On top of Mark Ruffalo, Keshishian's bio states that her other clients include Paul Rudd and Jennifer Aniston. Ahmed's connections to Hollywood actors could account for some of the money he has raised from anonymous sources, as wealthy celebrities sometimes wish to keep their political donations hidden from fans.
While hanging out with actors, Ahmed has also kept a close watch on Congress through a PR and lobbying firm he hired called Lot Sixteen. Very few activist groups have the financial means to hire private lobby shops—even those with an established presence on Capitol Hill—but during a few quarters of 2021 and 2022, CCDH paid Lot Sixteen $50,000 to lobby congressional offices on COVID-19 misinformation and "preventing the spread of misinformation and hate speech online in social and mainstream media."
Even as he expanded operations into the United States, Ahmed maintained strong ties with British politicians, including Tory Party member Damian Collins, a leading proponent of censoring disinformation. Since 2016, Collins has led a series of inquiries into "disinformation" and "fake news" on social media. Various reports he helped usher through the British government laid the foundation for a 2021 "Online Safety Bill" intended to purge online "disinformation."
When Collins held hearings on the bill—which was passed into law just weeks ago—the first person to give testimony in support of online bans was Imran Ahmed.
Ahmed's successes in both the U.K. and the United States have also generated new legal concerns. Last month, Republican Congressman Jim Jordan sent CCDH a letter demanding they turn over a list of funders, as well as communications between social media companies and federal agencies accused of censoring Americans. When CCDH failed to provide answers to Jordan's satisfaction, the congressman upped the ante with a subpoena, alleging the group is working directly with Biden officials.
And now Ahmed is also embroiled in a legal battle with Elon Musk. Last July, Musk's lawyer sent Ahmed a letter, warning him that a report CCDH put out contained false and misleading claims about Twitter's control of hate speech on the platform. Ahmed's research consisted of eight papers, including one alleging that Twitter had taken no action against 99% of the 100 Twitter Blue accounts that CCDH accused of "tweeting hate."
Publicly, Ahmed ridiculed Musk's letter, saying it was a declaration of war. Twitter then filed a lawsuit against him and CCDH. Seizing on the lawsuit, Ahmed sent out an appeal for funding, and gave a series of interviews where he claimed Musk was bullying him.
Federal law prohibits unauthorized access into computer systems, and Twitter alleges that CCDH illegally accessed the computers of a company called Brandwatch, which works with Twitter. Companies subscribe to Brandwatch to gain access to Twitter's data, allowing them to understand how their company can advertise and promote themselves on the platform.
A recent CCDH report was based on questionable interpretations of Brandwatch data, which Twitter's lawyers allege they accessed illegally through a third-party that has a Brandwatch subscription: the European Climate Foundation. Twitter also accuses CCDH of illegally scraping their data, which violates Twitter's terms of service, and of interfering with their contract with Brandwatch. In addition to suing for financial damages, Twitter's lawyers also allege that Ahmed's organization violated the Computer Fraud and Abuse Act, a criminal statute.
Though Ahmed did not respond to questions about what he plans to do as legal costs for CCDH mount, multiple sources told Tablet that he will likely put on a brave face and try to spin this into a narrative with him as tiny David taking on multiple Goliaths: Elon Musk and Republican lawmakers.
It is too early to say how congressional investigations and lawsuits involving Ahmed will end, but whatever their final outcomes, they are likely to shed more light on how an ambitious Brit came to play such a prominent role in American politics. Ahmed's path to influence, it's clear, relied on a new idea of expertise that has more to do with politics than technical knowledge. The fact that fly-by-night nonprofits with political motives can now be elevated into scientific authorities, says less about these groups than it does about hardball politics played by corporate Democrats in the U.S. and new Labour officials in the U.K.
Ahmed's rise has been impressive, but ultimately he has been a servant to the power of political parties who deployed him and the CCDH to weaponize the charge of hate speech and misinformation against their enemies.

© 2023 FM Media Enterprises, Ltd.