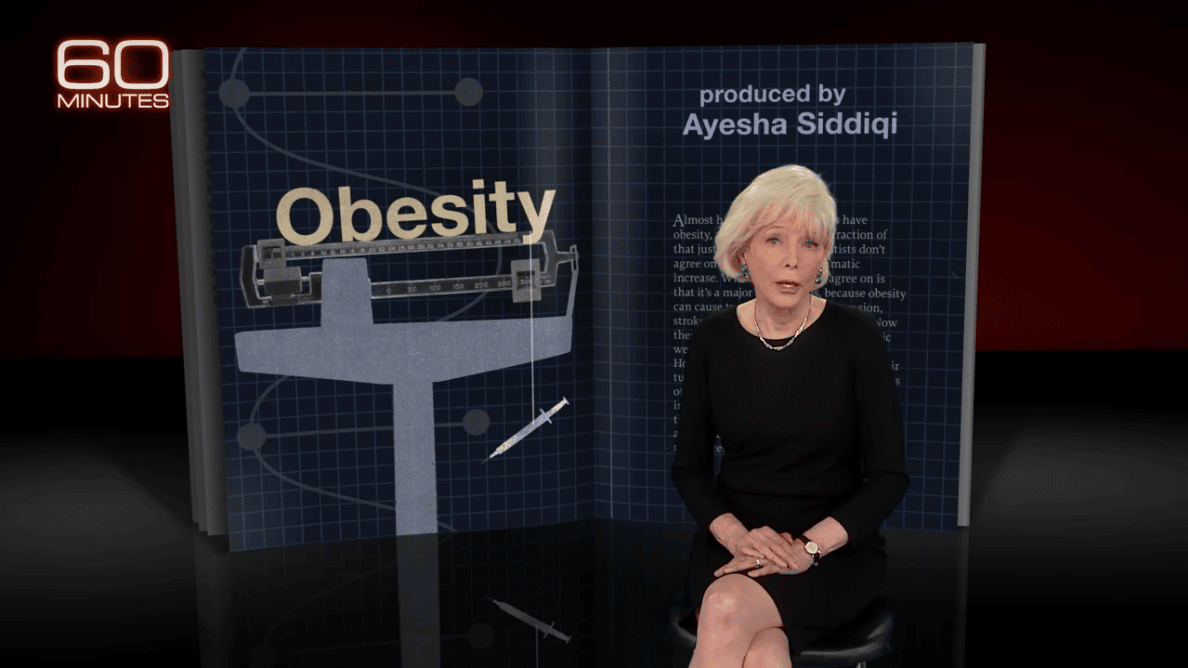 60 Minutes' Weight-Loss Tip: Don't Bite the Hand That Feeds You
by Julie Hollar | Feb 10, 2023
People in the United States have grown accustomed to endless pharmaceutical ads when watching TV. The industry is the fourth-biggest spender on TV advertising in the country—one of only two in the world (along with New Zealand) that allows such direct-to-consumer advertising of prescription drugs.
But sometimes it gets even worse. Like on a 60 Minutes segment (CBS, 1/1/23) that the Physicians Committee for Responsible Medicine (1/19/23) has accused of effectively being a pharmaceutical ad.
In the 13-minute segment on weight-loss drug Wegovy, the only medical experts interviewed by CBS were doctors who had received thousands of dollars in consulting fees and honoraria from Novo Nordisk—a company that just happened to be a sponsor of the broadcast. As the group also pointed out, "No alternative methods for weight loss were mentioned."
'Fabulous' reporting
60 Minutes' Lesley Stahl interviewed obesity specialist Dr. Fatima Cody Stanford, and profiled two women who had been trying unsuccessfully to lose weight, along with their physician, Dr. Caroline Apovian.
Stahl told viewers that Apovian "is relieved that at last, she has a highly effective medication to offer her patients that's safe, according to the FDA." She continued, "It's part of a new generation of medications that brings about an impressive average loss of 15% to 22% of a person's weight, and it helps keep it off."
"Safe," "impressive," "at last." More words used to describe Wegovy in the broadcast: "fabulous," "robust" and "very effective and safe."
But there's a problem, Stahl said:
The vast majority of people with obesity simply can't afford Wegovy, and most insurance companies refuse to cover it, partly because, as AHIP—the health insurance trade association—explained in a statement, these drugs "have not yet been proven to work well for long-term weight management and can have complications and adverse impacts on patients."
Apovian reassured viewers that most of the side effects—"nausea, vomiting"—go away with time, and she expressed frustration that many of her patients can't get the medication "because insurance won't cover it." One of the patients described being told by her insurance company that it considers Wegovy a "vanity drug." Stahl pointed out that the health plan of the other patient "puts anti-obesity medications in the same category as drugs for erectile dysfunction and cosmetic purposes."
Drugmaker as hero
It's good to see CBS going after the insurance industry, which regularly denies needed coverage in order to maximize its own profits (ProPublica, 2/2/23; Truthout, 10/20/22). But our broken healthcare system is only partly about rapacious insurance companies; greedy pharmaceutical companies also play a starring role. Yet in 60 Minutes' story of villains and victims, Novo Nordisk plays the would-be hero whose hands are tied.
Stahl reported that Wegovy is "not easy to get. The drug is currently in short supply. And it costs more than $1,300 a month." But her only questions about that cost concerned why insurance companies wouldn't cover it—not why it costs so much in the first place.
Novo Nordisk recently predicted record earnings as a result of demand for Wegovy, with operating profits expected to increase by up to 19% (Bloomberg, 2/1/23)—from a company that made $8 billion in profit last year. And this is in an industry that already regularly expects profit margins of 15–20%—Novo Nordisk's 2022 profit margin was 31%—as compared to 4–9% for non-drug companies.
In Norway, where the Norwegian Medicines Agency recently denied granting reimbursement for it, Wegovy costs up to $425 a month out of pocket (MedWatch, 1/19/23). The price is similar in Denmark (Alt, 12/20/22).
And Wegovy is exactly the same drug—just at a higher dosage—as Nordisk's older and more widely available diabetes drug Ozempic, which 60 Minutes also discussed as being used "off-label" (meaning not FDA-approved) for weight loss. Ozempic was approved in 2017 and can cost around $900 a month in the US without insurance. It can cost less than $200 a month without insurance in Canada.
That's largely because Canada, like Norway and Denmark, has negotiated prices with drug companies, rather than letting them set whatever wildly inflated prices they desire, which leads to those eye-popping profits. (The Inflation Reduction Act passed last year does include provisions giving Medicare the power to negotiate  prices for some drugs, with the first negotiated prices to go into effect in 2026.) The United States spends more on healthcare per person than any other wealthy country, and a large part of that is driven by brand-name drug spending. Because of US government policies that favor drug companies over people, prices for brand-name drugs are 3.5 times higher in the US than in other high-income countries (Commonwealth Fund, 11/17/21).
60 Minutes' Lesley Stahl did give a nod to the conflicts involved in her report—that "Doctors Apovian and Stanford have been advising companies developing drugs for obesity, including the Danish company Novo Nordisk, an advertiser on this broadcast."
She didn't make explicit that their advising services were paid. Cody Stanford received over $15,000 from Novo Nordisk in 2021 (the most recent year for which data is available), and Apovian received close to $9,000.
You'd think that these obvious conflicts of interest would prompt the show to bend over backwards to at least find other, critical sources to balance their reporting. But the only other expert source in the story was economist Tomas Philipson, an outspoken critic of drug price controls, who elsewhere had argued that Democrats' 2021 bill to let Medicare negotiate some drug prices would be "31 times as deadly as Covid-19 to date" (The Hill, 12/2/21).
'Commercial relaunch'
Endpoints News (1/23/23) reported that "Novo Nordisk had halted Wegovy promotions back in March on the heels of supply issues, but said in November that it planned a 'broad commercial re-launch' in the new year." It's quite convenient that 60 Minutes' report corresponded so neatly with that re-launch.
Novo Nordisk protested that they can't run afoul of FDA advertising rules because they
did not provide any payment or sponsorship to CBS 60 Minutes for their reporting on obesity as part of a news segment that aired on January 1, 2023, and we did not control any of the content or have any role in identifying or selecting the doctors and patients featured in the news segment.
Of course Novo Nordisk didn't control the content of the 60 Minutes report—nor did it have to. Advertisers footing a corporate news outlet's bills generally don't have to tell them how to report, because those outlets understand the perils of biting the hand that feeds them. If that segment had been submitted by Novo Nordisk as a paid advertisement, it would have come under more oversight than it did by 60 Minutes.
The FDA requires drug advertisers to present "the most significant risks of the drug," and to "present the benefits and risks of a prescription drug in a balanced fashion." So a Wegovy ad would have to talk about the potential risk of thyroid cancer, pancreatitis, hypoglycemia and kidney failure, among other things—none of which 60 Minutes mentioned.
Nor, aside from the quickly dismissed AHIP statement about "adverse impacts," did they include any information about other potential downsides of the drug that other news outlets have mentioned in their coverage of Wegovy—like the fact that it doesn't work for everyone, or that it's meant to be taken long-term lest the lost weight comes back (NPR.org, 1/30/23).
What more could an advertiser ask for?

© 2023 FM Media Enterprises, Ltd.