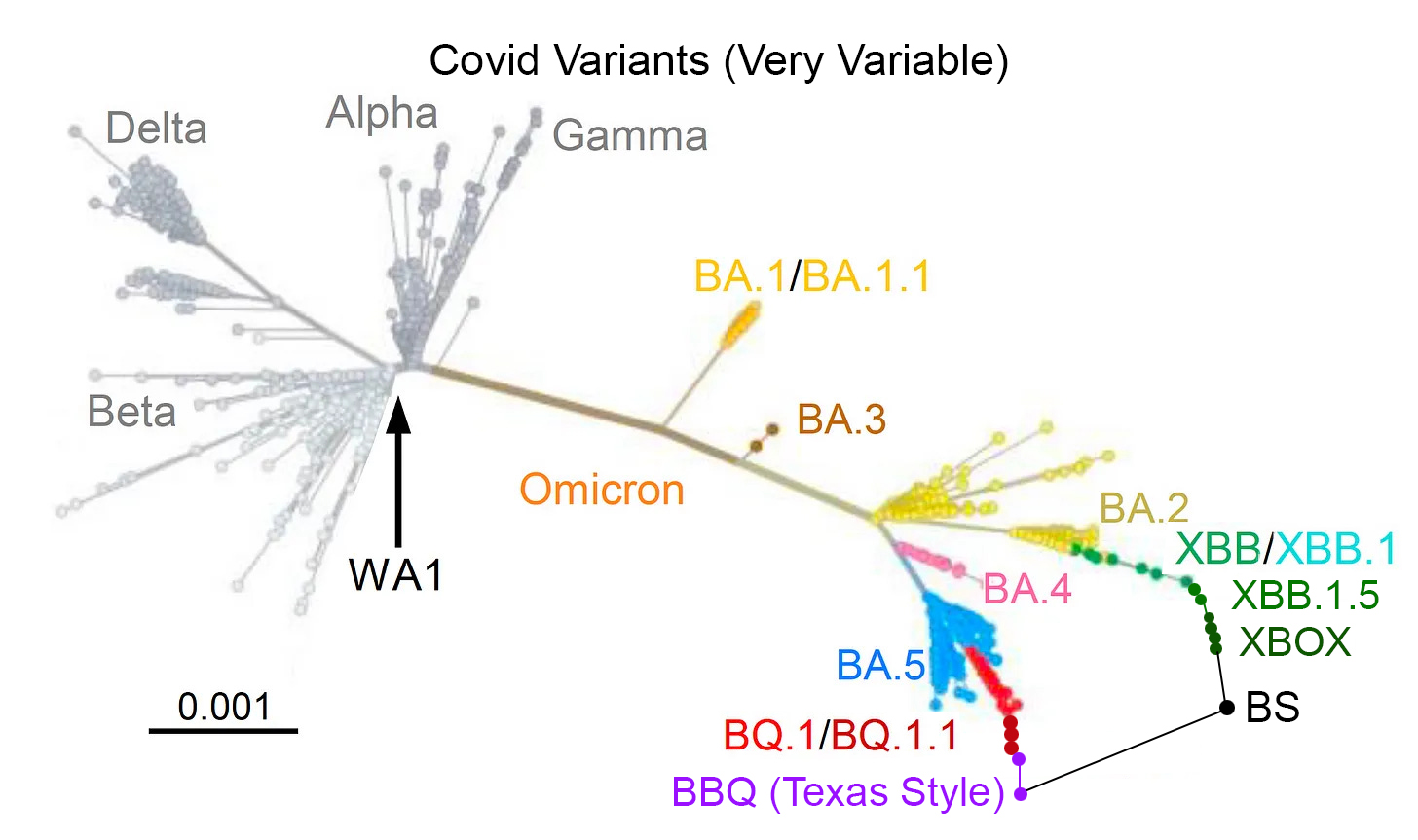 Yet another Covid "variant": Omicron XBB & the self-driving narrative
by Kit Knightly | Jan 4, 2022
There's yet another Covid variant in the headlines – it's Omicron XBB 1.5 if you want to know. It honestly doesn't really matter at this point – but it does provide an interesting lesson in the nature of propaganda narrative construction and how, past a certain point, they take on a life of their own.
These days, self-driving cars are in the news a lot. Give it a few years, and driving your own car will be seen as "selfish", "dangerous" and "old-fashioned".
But Covid has become a self-driving narrative.
It is a self-perpetuating machine, not out of the control of its creators, but currently set to auto-pilot. We've reached the propaganda singularity – that point at which too many people have too much riding on the supposed "reality" of Covid to ever let it die.
If the originators of the Pandemic lie were to speak out – to admit the planning of the scam, explain how it was done and claim Covid never existed – they would be ignored or shouted down. And all the fake "science" they paid to create would be used as "evidence" they were wrong.
This is not accidental. It is the ultimate aim of propaganda. The media is an industrial machine designed to turn a collection of lies into a story, a story into a belief, and finally – most importantly – a belief into an unquestioned part of the collective reality.
This is not a new process but it usually takes years and years, Climate Change being the obvious recent example. Covid has shown us the process massively accelerated, like a time-lapse of a seed becoming a flower.
The major part of this is engaging people's profit motive. Money mostly, as always and forever, but aspects of ego and "virtue" and purpose play into it as well – all of that can be balled into a group we can roughly term "self-interest".
Right now there are dozens – maybe hundreds – of universities and research labs around the world being paid millions of dollars in grants and subsidies to research "Covid" in one way or another.
New variants, new methods of testing, assessing the effectiveness of PPE, pandemic preparedness and prevention, updating testing assays, modifying vaccines…the list goes on and on.
You name some small area of the "pandemic" narrative, and I can guarantee that some guy in a lab coat is out there being paid to write papers about it.
An army of people – people who likely never had any role in creating the fake narrative, and may well believe it's entirely real – are now in the position where their very livelihood depends on Covid existing. They will NEVER allow themselves to be convinced otherwise.
Everyone knows the Upton Sinclair quote "It's difficult to get a man to understand something when his salary depends on not understanding it." That certainly applies here.
But just as true, and just as relevant is this: It is very easy to find something when your salary depends on finding it. So the variants will keep on coming.
Covid has become a cottage industry. Sucking in money on one end, spitting out variants on the other.
And while, for the present, that is a quiet process running in the background, at any moment one of these "variants" can be plucked from relative obscurity and used to restart lockdowns and mask mandates and the whole pandemic spiel.
A little fear porn farm, with a ripening crop to be harvested as needed.
That's the little lesson here – the ultimate propaganda victory is not to make everyone believe a lie is the truth, it is to make some people need it to be.

© 2023 FM Media Enterprises, Ltd.