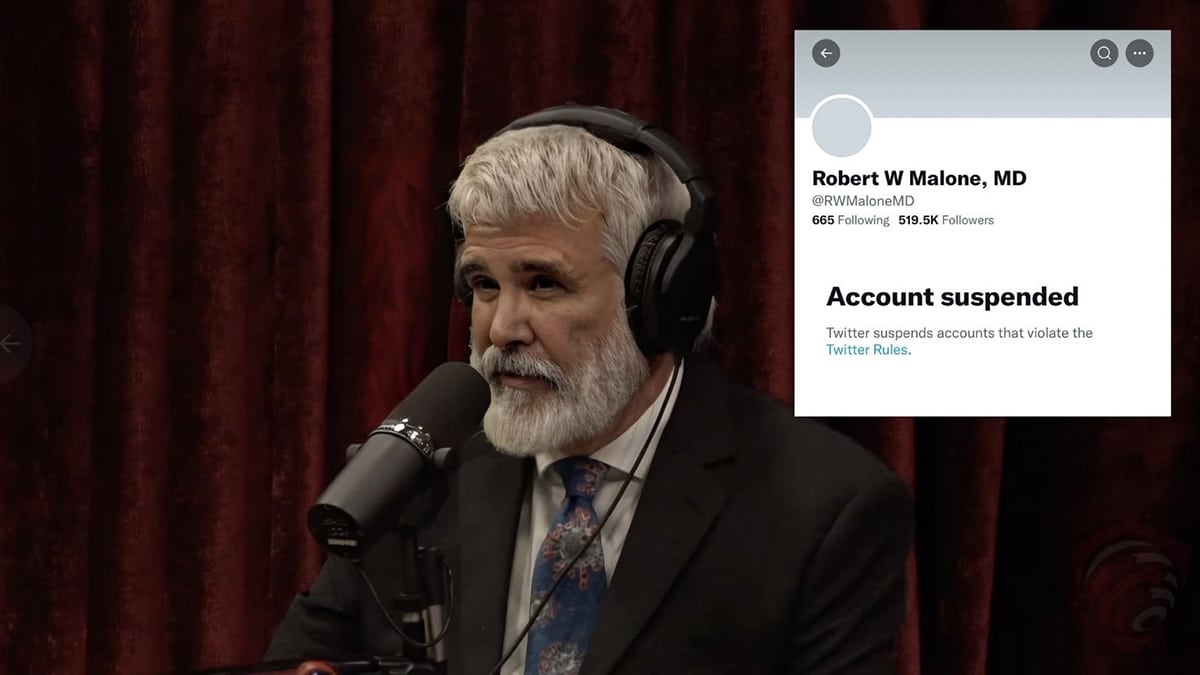 Dr. Robert Malone and other censored doctors sue Twitter
Drs. Peter McCullough, Robert Malone, and Bryan Tyson have filed a lawsuit against Twitter, alleging that Twitter silenced them for posting truthful information about COVID-19. The lawsuit also notes that Twitter refused to give them "verified" badges despite meeting the criteria outlined by Twitter.
The complaint argues that Twitter breached its own terms when it suspended the doctors. They want the court to order Twitter to reinstate their accounts.
We obtained a copy of the lawsuit for you. (See below.)
On May 12, one of their lawyers, Matthew Tyson, sent a letter to Twitter requesting the reinstatement of five accounts (the three plus Drs. Vladimir Zelenko and George Fareed) and to give them "verified" badges.
In the letter, Tyson admitted that Twitter is a private company so it's not bound by the First Amendment.
"However, Twitter also implemented specific community standards to limit COVID-19 misinformation on the platform, and Twitter was bound to follow those terms," he added.
We obtained a copy of the letter for you (See below.)
In the lawsuit, the doctors insist they provided truthful information about Covid. The lawsuit states that a "truthful tweet regarding COVID-19 policy, diagnosis and/or treatment" would not have been in violation of Twitter's policies.
The lawsuit also argues that Twitter violated its own terms by permanently suspending accounts that did not have five strikes.
"The consequences for violating our COVID-19 misleading information policy depend on the severity and type of the violation and the account's history of previous violations. In instances where accounts repeatedly violate this policy, we will use a strike system to determine if further enforcement actions should be applied," Twitter website states.
The platform has a "five-strike policy." Strike 1 does not result in punishment. Strikes 2 and 3 result in a 12-hour suspension. Strike 4 results in a 7-day suspension. Twitter permanently bans accounts after five or more strikes.
"None of these physicians posted false or misleading information, nor did they receive five strikes before suspension," Tyson wrote in the letter to Twitter.
"It's no accident that Twitter violated its own COVID-19 misinformation guidelines and suspended the accounts of Drs. Zelenko, Malone, Fareed, Tyson and McCullough," he added.
The letter continued: "Twitter received express and implied threats from government officials to censor certain viewpoints and speakers, lest Twitter face the amendment or revocation of Section 230, or antitrust enforcement. This was a financial decision for Twitter.
"For the sake of profits, it chose to abandon its role as a neutral internet service provider and instead openly and intentionally collude with government to silence lawful speech."
Malone-et-al-vs-Twitter-rtn-87

malone-et-al-letter-twitter-rtn-copy


© 2023 FM Media Enterprises, Ltd.