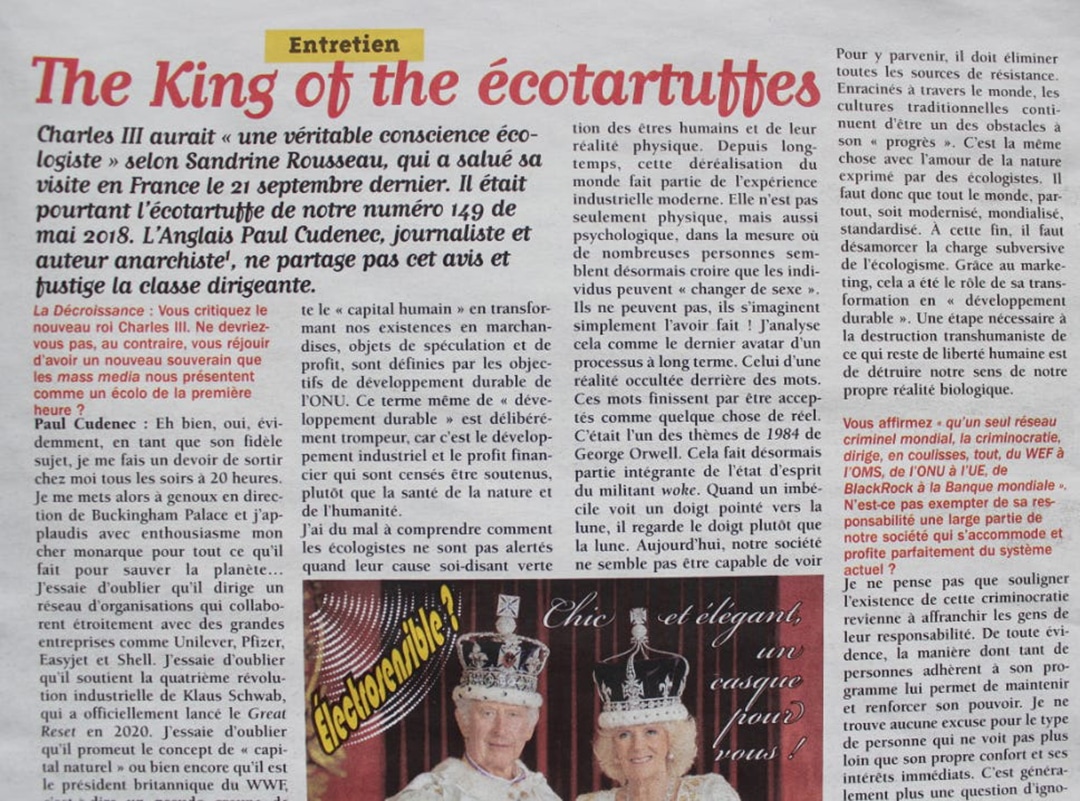 The king and the criminocrats
by Paul Cudenec | Oct 17, 2023
There is an interview with me in the October 2023 edition of La Décroissance, a French real-green real-life newspaper with a wide distribution. Here's the English-language version.
LD: You criticise King Charles III. As his subject, shouldn't you rather be rejoicing at having a new sovereign who is presented by the mass media as a longstanding environmentalist?
PC: Well, yes, of course, as a loyal subject I make a point of going outside my home every evening at 8pm, 'taking the knee' in the direction of Buckingham Palace and enthusiastically applauding my dear monarch for all he is doing to Save the Planet… I try to forget that he heads a network of organisations which collaborates closely with big businesses like Unilever, Pfizer, easyjet and Shell, that he supports the Fourth Industrial Revolution, officially launched The Great Reset in 2020, endorses the idea of "natural capital" and is UK president of the WWF, the fake-conservation group throwing indigenous peoples off their land in the pursuit of a phoney "New Deal for Nature"!
LD: You note that Greta Thunberg's Friday school strikes, Extinction Rebellion and the climate justice movement, along with "15-minute cities", are infiltrated by, and are even the creation of, capitalist businesses. Can you explain this? How can all the genuine activists be made aware of this without discouraging them?

© 2023 FM Media Enterprises, Ltd.